Though the San Francisco-based blockchain payments firm Ripple and its native digital currency XRP have faced legal troubles from the United States Securities and Exchange Commission (SEC), it has retained its popularity, claims the new report released by Ripple.
Ripple Releases Q4 2020 Report For XRP Markets
Ripple has recently released its new report of the fourth quarter of the year 2020 for XRP markets. The contents of this report have surprised many in the cryptocurrency community. In the report, the company has said that its native digital currency has successfully maintained its popularity despite going through a lot of legal trouble from the US SEC.
According to the report of Ripple, the fourth quarter of 2020 remained good for XRP sales as the company boasted higher sales of the coins during this quarter for its On-Demand Liquidity product. A huge number of customers onboarded themselves for the company's ODL service, which is the cross border payments product of Ripple and utilizes XRP for payments.
The report said that the net sales of XRP in Q4 2020 were totaling $76.27 million. And this figure was double that of XRP's net sales witnessed in the third quarter of the previous year. In Q3, the net sales of XRP totaled $35.84 million. These figures clearly show how amazing the last quarter of the previous year was for Ripple's XRP.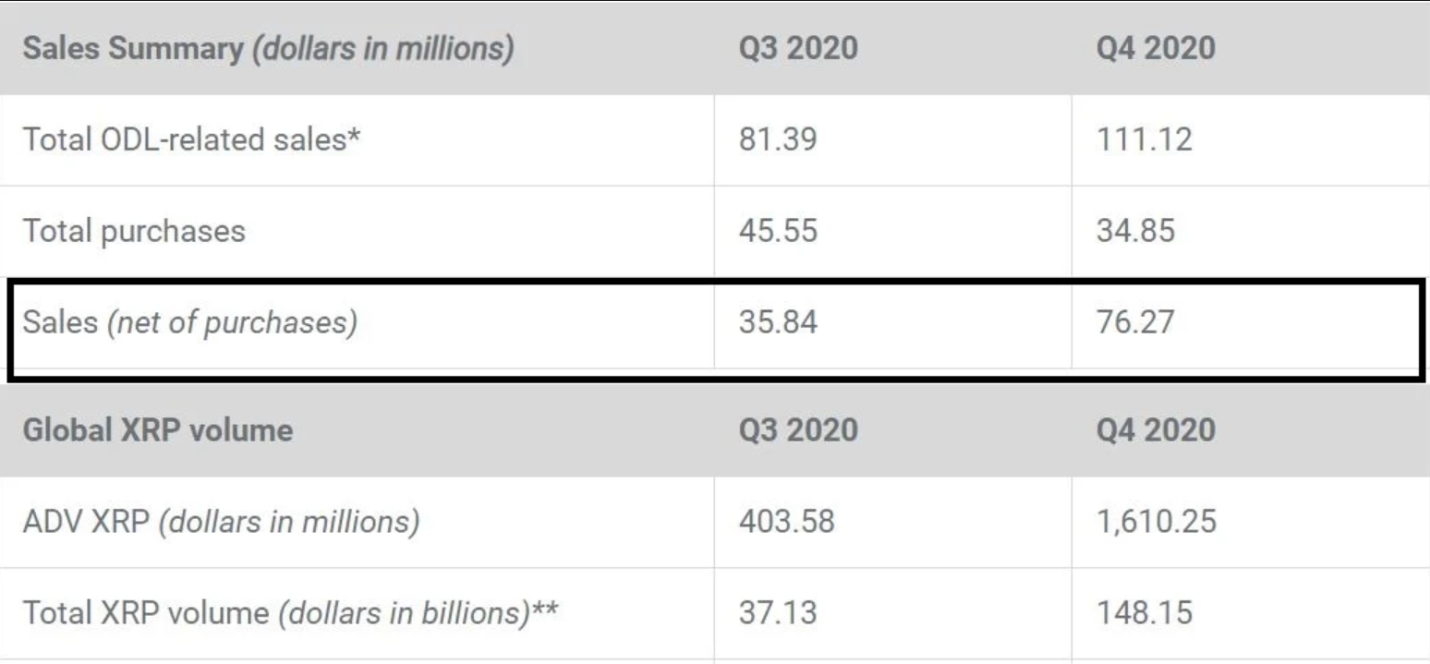 Source: Ripple
Moreover, the trading volumes of the fifth-ranked digital currency saw an increase of more than 400 percent during the previous quarter. According to the report, the total trading volume of XRP in Q4 was standing at $148.15 billion. While on the other hand, XRP's total trading volume was noted to be standing at $37.13 billion in the third quarter of the year 2020.
This growth was witnessed by XRP amid its parent company's battle with the SEC, who filed a lawsuit against Ripple for the alleged sale of unregistered securities.